Plugin Manager
---
Bundle Keys
If you purchased any of our bundles then you should enter in your Gumroad License Key here.
Pro Bundle
4D Publish Bundle
4D Paint Bundle
---
Activate Individual Plugins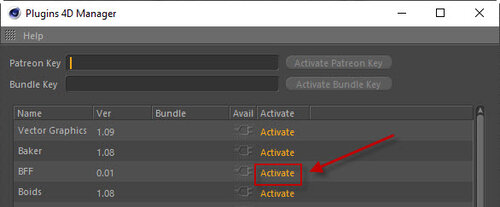 If you have bought a licence for a specific plugin then you will need to activate it by pressing the Activate button for each plugin.
Press the Activate button for the plugin you have bought
A dialog will appear where you will need to enter in the Gumroad Licence Key
When you press Activate it will check online to see if the licence is valid.
If the licence is ok then a dialog box will appear telling you the licence was accepted.
Restart Cinema 4D to start using your new plugins.
---
Patreon Key
If you have signed up to our Patreon page for early access to Alpha Plugins then you will have received a key from us (if you haven't then please contact us to get your key). Enter your key into this field and restart to get access to your plugins.
---
Plugins 4D Menu
It will add a menu to C4D called "Plugins 4D" where all your active plugins will add their items to.
From this menu you can open the Plugins 4D Manager. This will list all the plugins you have downloaded, if they are part of a Bundle, the version number and if they are currently active.
From the Plugins 4D menu you will also have access to the Help via the Show Help menu item.
You can also disable this Plugins 4D menu from your preferences.
Just go to Edit->Preferences and find the Plugins 4D entry
Click on the Plugins 4D entry
You will see an option 'Show Top Menu'
Uncheck this box and restart C4D and the Plugins 4D menu will no longer appear
---
Plugins 4D Preferences
In the Edit->Preferences->Plugins 4D menu all the addition preferences, for any of our other plugins, will be grouped underneath this same menu for easier management of all your settings.